xSystem Installation Example
xSystem Installation
Step 1 - Find a place for the reservoir unit
The xSystem reservoir unit can be mounted in various locations on your motorcycle such as frame tubes or under the seat. The reservoir must be at least at a a slight angle with the outlet facing downwards.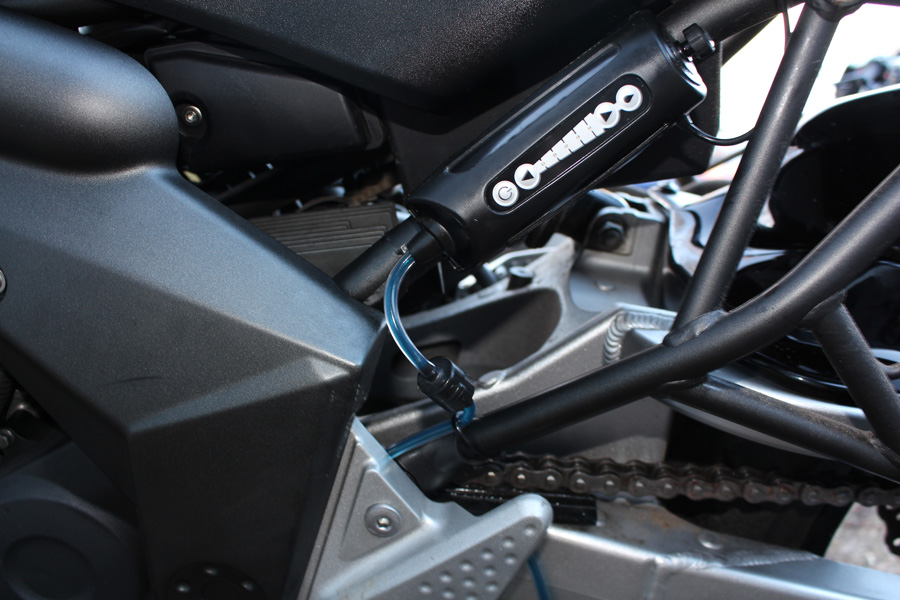 The picture shows the xSystem 1.0 with the black check valve in line. The xSystem 2.0 onwards does not require the check valve.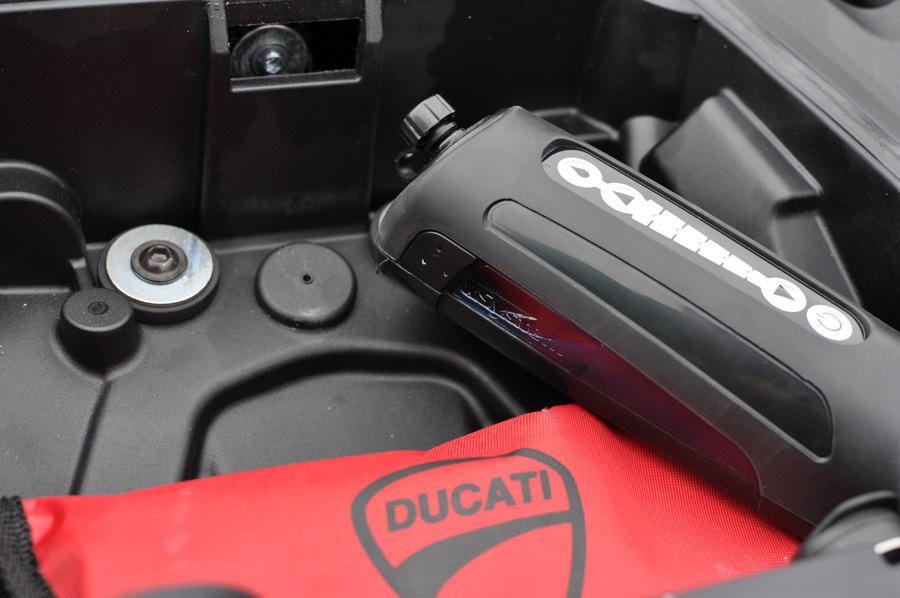 Step 2 - Connect the xSystem to the battery
The xSystem must be wired directly to the battery. Attach the red wire to the +ve terminal and attach the black wire to the -ve terminal.
Slightly loosen the battery terminal screws to slip in the spade connectors.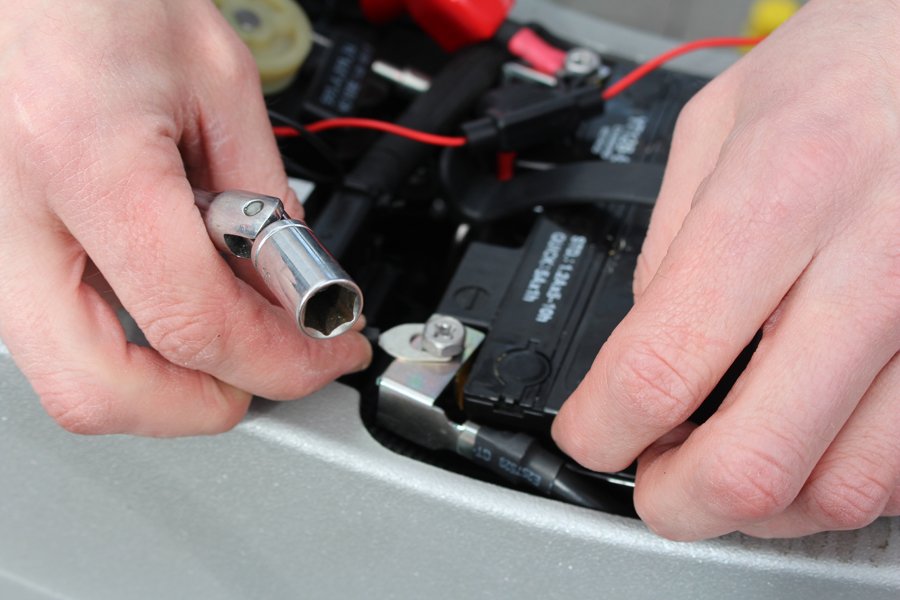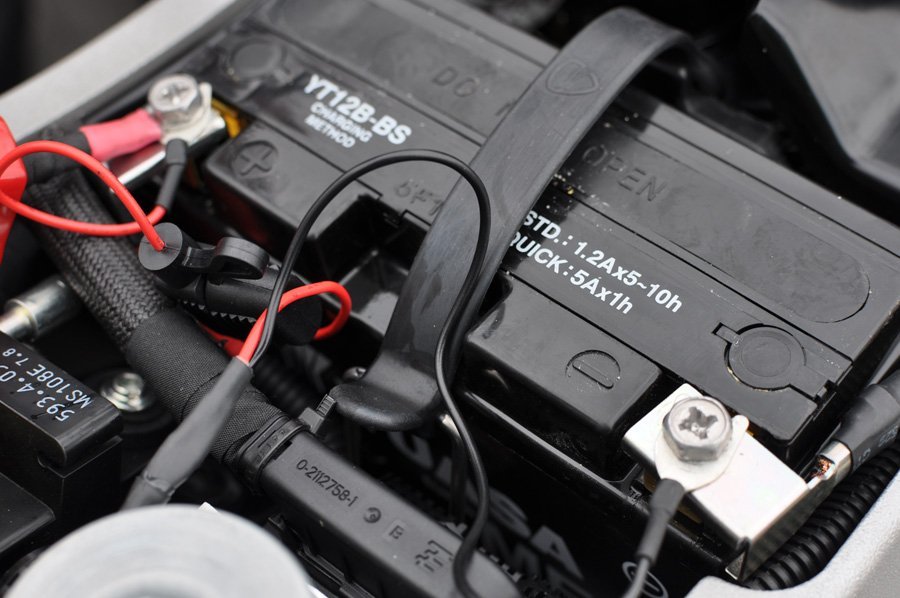 Step 3 - Mount the multiform dispenser on the rear sprocket
The multiform dispenser block can be manipulated and cut to fit most swing arms. Assemble the dispenser unit as per instructions. Identify the exact location before taking of the adhesive. Match up the adjustment of your chain with the adjustment of the multiform block to allow for forward/backward adjustment in line with your chain variance.
Before taking off the adhesive thoroughly clean the area and then wipe it down with the included IPA Alcohol Wipes to remove any residue.
Alternatively you can use the micro dispenser plate by itself on any other mounting point on your rear swing arm / sprocket location such as bobbin mounts or toe guards.
The delivery tubing can be routed along the swing arm using self- adhesive cable clips. For further information see our easy step installation guide -
Dispenser Positioning
.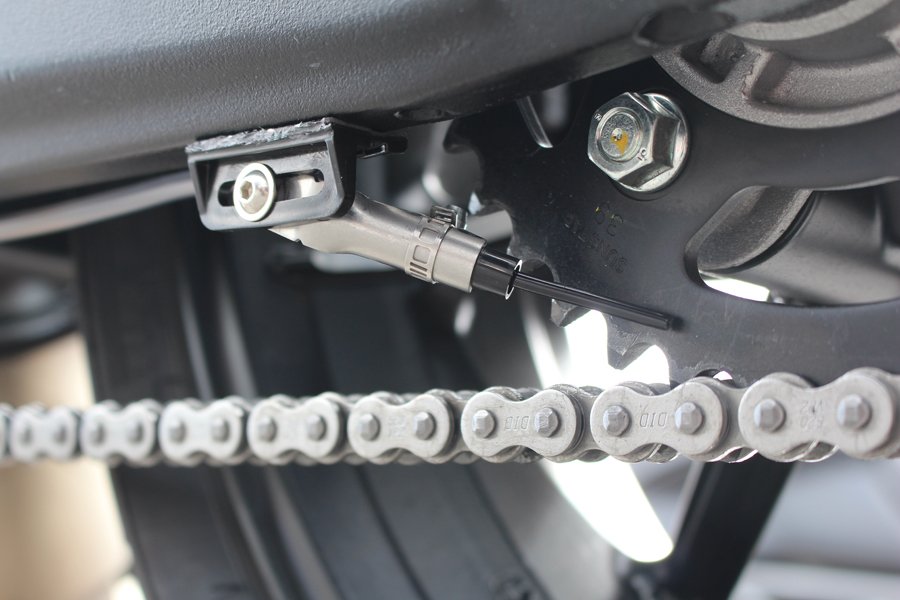 Step 4 - Fill, prime and install the check valve
Identify a desired location for the check valve in the delivery line. The location of the check valve can be anywhere along the delivery line and should be protected from outside elements. Fill the reservoir and prime the pump until oil reaches your desired check valve location. Cut and insert the check valve with the arrow facing in the direction of the oil flow. Repeat priming the pump until oil reaches the sprocket.
Step 5 - Set the flow rate
To turn the system on, press and hold the on/off button (at the bottom) until the LEDs light from the bottom , upwards. It will settle on the chosen flow rate.
To turn off, again, hold the on/off button and the LEDs will light up and turn off, one by one, downwards.
To increase the flow rate, make sure it's switched on and press the upwards pointing arrow and the LED will move one position higher.
To reduce the flow rate, press the downward pointing arrow.
Set the flow rate on the middle section and adjust if required up/down depending on your riding conditions.
The xSystem will automatically switch on/off and no manual activation is necessary. You can manually turn the system on/off if you transport the motorcycle on a ferry or trailer.